Here are a few tips for planning a themed tea party with one of our favorite summer blooming herbs – Lavender. I've included several suggestions for making your event fun if you are able to share it in person or if you want to convert it to a virtual tea party.
Theme: Lavender Tea Party
Laura Childs has just released her 21st Tea Shop Mystery: Lavender Blue Murder. As her host of readers know, she shares her talented main character (tearoom owner & detective) Theodosia's inspired tearoom-themed parties as well as recipes and choices for elegant decorations.
Laura Childs has given me permission to use Theodosia's newest adventure and ideas and to expand them with suggestions to help make this virtual – A Lavender Tea Party.
In the book, Theodosia invites a local lavender farmer and expert, Susan Monday, to speak at an afternoon tea in the Indigo Tea Shop.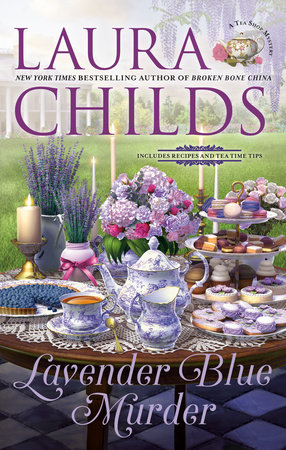 An excerpt from TEA TIME TIPS FROM LAURA CHILDS (page 307):
"Just like the Indigo Tea Shop, you, too, can host a Lavender Lady Tea. Blue, purple, or lavender china will set the tone perfectly, then add bunches of lavender in clay pots, lavender candles, and lavender soaps or sachets as party favors. Begin your tea with lavender scones, then serve a variety of chicken salad, crab salad, and cream cheese and cucumber tea sandwhiches. Dessert might be Lemon-Lavender Shortbread. if you're having a Drayton moment, blend some lavender buds into your favorite black tea."
Making it Virtual
With this perfect summer reading and sipping option, you can create and share this virtual tea party in several different ways.
Share the book! This can be that you and your party guests agree to read and discuss the book, or that you assemble a tea-party-in-a-box to send as a gift along with a scheduled virtual event.
Send fresh lavender flowers as decorations. These can be sent fresh and you can feel confident that they will arrive in good shape.
Lavender is fairly easy to grow, even in a container. They are also one of the plants that florists offer as a potted gift. Share some from your garden or send a live plant for tea party guest to grow.
Send homemade lavender-infused shortbread cookies. If they are wrapped well, they usually ship easily (see my recipe below).
 Lavender-Themed Tea Menu
There are many different commercial teas that are available by reputable companies and for affordable prices. But you can also create your own tea blend, either a fully-decaffeinated herbal blend or you can include a true tea that contains some caffeine.  Some possibilities:
You can blend almost any whole leaf tea with some lavender flowers.
Rooibos and lavender flowers are a delicious combination.
Blue pea flowers add a deep blue color to a lavender flower blend.
Hibiscus flowers add a deep magenta color to a lavender flower blend.
Lavender-Themed Menu Suggestions 
Add dried lavender flowers to your favorite scone recipe.
If you have an abundance of lavender flowers (such as if you grow your own), try making lavender jelly for your tea party.
Try a chilled soup made with fresh strawberries and lavender flowers.
Add some dried lavender flowers to a simple chicken salad. Serve as a scoop of chicken salad on lettuce leaf and sprinkle a few additional lavender flowers on the top.
Marinate salmon in lemon and lavender and grill. Serve small strips on an open-faced sandwich or lettuce leaf.
If you have fresh lavender, press flowers into shortbread before baking (recipe below).
Make your own marshmallows using a lavender-infused simple syrup and bits of lavender flowers sprinkled into the mixture. Serve a lavender marshmallow with a fruit salad.
Chunky Herbed Potato Corn Chowder with Bacon with Lavender Flowers – from Nancy Baggett's book, The Art of Cooking With Lavender. She offers this recipe on her website. 
Lavender-Topped Shortbread
3/4 pound unsalted butter, softened to room temperature
1 cup sugar
2 teaspoons vanilla
3 cups all-purpose flour + some for rolling
1/2 teaspoon salt
20 – 30 sprigs of fresh lavender flowers
The cookie dough can be rolled into a log shape, wrapped, and chilled. They cut easily into slices and you can gently place fresh lavender flowers on top. The flowers will settle into the dough while baking.
Cream together thouroughly the softened butter and cup of sugar. Add vanilla and set aside.
In another bowl, sift 3 cups flour and salt. Gradually add this mixture to the creamed butter using an electric mixer on low speed. The dough should come together.
Scrape dough out of the bowl and onto a floured surface. Roll lightly and shape into a log. Wrap in waxed paper or plastic wrap. Chill or freeze.
When ready to bake, reheat oven to 350 degrees F. Wash lavender sprigs and pat dry. Snip sprigs to fit the cookies.
Slice cookie log into 1/2 inch pieces.
Press the lavender into the cookies and bake on non-greased sheets until the edges begin to turn light brown. Allow cookies to cool for a short time before trying to lift them.
Themed Decoration Suggestions
Since you're using a flower theme, using lavender flowers in a small vase alone or combined with other flowers seems like your first and best decoration.
Your tablecloth, plates, teacups, and glasses are part of your decoration.  For a lavender theme, use blues and purples.
Consider using additional lavender-colored flowers in your decorations. Blue roses and lavender are very elegant.
Check out the "Lavender Tea Party" Pinterest Board for more ideas.
Themed Take-Home & Mail-Away Gifts
Your guests will love having pretty take-home boxes of extra treats from your menu.
Try making your own lavender tea blend and packaging gift packets. Or purchase a favorite tea blend in bulk and repackage.
Lavender scented beauty products like soaps and bath bombs are easy DIY projects.